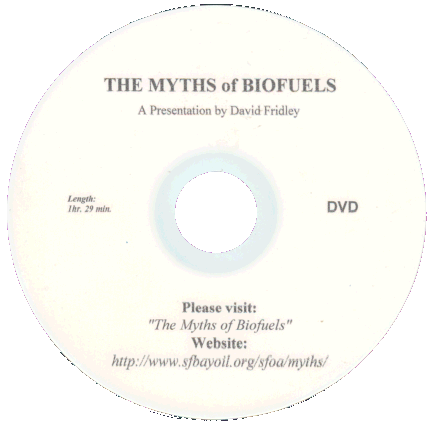 DVD184 - The Myths of Biofuels DVD
Since this DVD is open source,
we are distributing it at cost.

In order to keep costs as low as possible,
the disc will come in a simple white sleeve.
| | | | |
| --- | --- | --- | --- |
| Quantity | 1-49 | 50-99 | 100+ |
| Price Each | $2.00 | $1.50 | $1.00 |
The Myths of Biofuels is a video production of a presentation made by David Fridley (of Lawrence Berkeley Labs, and San Francisco Oil Awareness) given to the public by Post Carbon Santa Clara Valley on June 7, 2007. Mr. Fridley has been concerned about the potential effects of petrolium depletion (peak oil) for a number of years and has done extensive work in this area.

Topics covered in The Myths of Biofuels include:
·Large-scale biofuel production is sustainable
·Biofuels are environmentally friendly and reduce Co2 emissions
·Biofuels will help us achieve "energy independence"
·Biofuels will help the farmers
·"Second-generation" biofuels (cellulosic ethanol) will save us
·Biofuels will let us continue our current way of life

Run time: 1 hour and 29 minutes

To order use this SECURE ORDER FORM.
Order form will open in a new window.